08 May

Travel Tip Tuesday – Clever Travel Hacks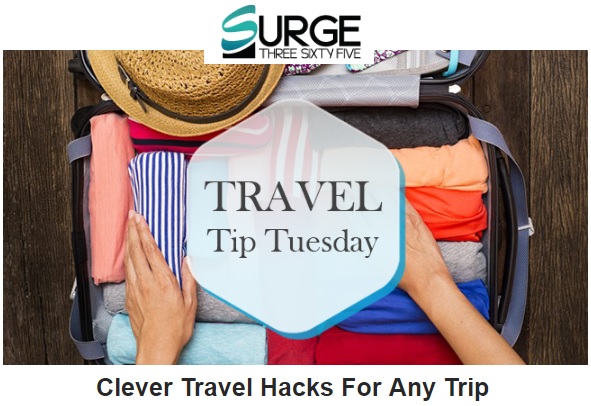 In this Travel Tip Tuesday, we're sharing a few of our best tricks for saving time, space, and money as you explore the world.
Bring An Empty Water Bottle
Pack an empty bottle in your carry-on so you can get through security, then fill it up on the other side. There is no need to spend $4 on water every time you get on a plane!
Request A Fragile Sticker For Your Luggage
Doing so helps ensure that your suitcase ends up on the top of the luggage pile and first on the conveyor belt at the baggage claim.
Store Emergency Money In A Lip Balm Tube
Pickpockets target wallets, money clips, purses, and other obvious valuables. They're almost certainly not after your Chapstick, regardless of how chapped their lips may be. Being small, inconspicuous, readily available, and watertight, it's the perfect spot to stash some money for emergencies.
Use A Television To Charge Your Electronics
If you ever forget to bring a USB adapter, or find that your adapter has too few available outlets, keep in mind that most TVs have a USB port around the back which you can use to easily charge your electronics.
Pack Like A Pro With Tissue Paper And Dryer Sheets
Roll your clothes in tissue paper to avoid wrinkles. Doing so reduces friction, which is primarily what causes wrinkles to form. Toss a couple dryer sheets in your luggage as well to eliminate static electricity and keep your clothes smelling fresh and clean. (A bar of scented soap works great, too).
Download Google Maps For Use Offline
If you're traveling somewhere without a phone data plan, you can easily download Google Maps ahead of time to browse offline. Type "Ok Maps" into the Google Maps search bar and the portion of the map that's currently visible on your screen will be saved directly to your device for later use.
Wipe the dust off your suitcase and use the list above to enjoy more affordable, efficient, and stress-free adventures in 2018 and years to come.