29 Aug

Travel Tip Tuesday! Four Amazing Ideas For The Upcoming Festivities!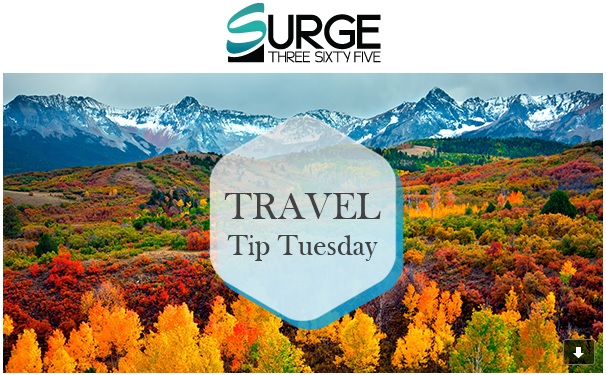 Each year on the fourth Thursday in November, Americans traditionally gather for a day of festivities that typically revolves around feasting, football and family. No matter how or when your traditions first started though, there is nothing in the rulebook that prevents you from making some adjustments, or even starting traditions completely anew. In this week's Travel Tip Tuesday, we have included some ideas to help inspire you to spice up the festivities soon to come.
Mother Nature's Artwork
Viewing the changing leaves during autumn is one of the easiest and least expensive ways to experience America's natural beauty. The crisp air and bright colors inspire travelers to embrace the outdoors. Cooler weather makes it the perfect time to go for a hike or embark on a road trip to admire the stunning fall foliage. As temperatures drop and days grow shorter, nature seemingly transforms into a masterpiece of color all around us. There is no shortage of beautiful fall scenery to be explored across the United States, and you don't have to travel far to take part in the phenomenon. From New England to the Pacific Northwest, deciduous trees put on their dazzling display for everyone to enjoy.
Celebrating In The Big City
While big cities typically feature skyscrapers and paved roads in place of trees shedding their leaves, their abundance of restaurants, parades and seasonal activities more than make up for the lack of autumn colors. In fact, big cities can be awesome places to partake in festivals. There is nothing quite like the spectacle and extravagance of a parade marching through downtown streets. We highly recommend traveling to New York City this year to attend the Macy's Day Parade. It is an amazingly entertaining event, and vastly different in person than on television. It's guaranteed to be an experience you'll never forget.
Wine Country and Orchards
During the fall harvest season, some of the best places to visit are wine-country regions from California to Virginia. It's easy to combine leaf-peeping with stops at farmers' markets and apple orchards, not to mention seasonal treats such as cider, donuts, and pumpkin pie. For families, autumn's corn mazes, hayrides, and roster of kid-friendly festivals are added incentives to keep traveling after school is back in session.
Resort Getaway
Several hotels and resorts around the United States make the upcoming festivities completely streamlined and easy, allowing you more time to sit back and enjoy each day alongside your family. Doesn't it seem more appealing to cozy up in a luxurious hotel and have the hard work done for you, rather than stress for hours in the kitchen preparing a seemingly endless feast? All you have to do is eat, sleep, and relax. Family-oriented resorts offer fun activities during the coming months such as building gingerbread houses, creating and decorating wreaths, or turning butter, marshmallows, and popcorn into delicious treats!