28 Apr

Renee Toppin Plans To "Surge" Around The Country!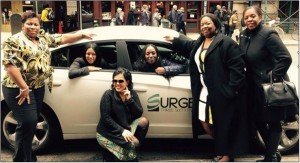 Marketing Director Renee Toppin was thrilled and excited to receive her fully paid-for Surge365 Dodge Charger at the Baltimore Launch on March 14, 2015. "The day that I received my Surge365 car I felt as if I had hit the lottery! The cheering, the high fives and tears of joy — there was an explosive energy in the air that day in Baltimore that I am sure was felt as far away as Virginia. I got several prospects from the hotel lobby based on the excitement alone. Receiving a free car with no strings is a dream come true.
When driving the Surge365 car, my business gets noticed wherever I go. I have given out numerous business cards and received many leads. I must admit that I park it in highly visible parking spots at Church, at the mall, at my daughter's school… and it works! I even put balloons on it and park it on the street in front of the house when I do travel parties.
Receiving the car has motivated my team by instilling a sense of "reality." A lot of them have gotten a chance to ride in it and take pictures in it. We even had a contest to see how many team members we could fit in the car; we GOT NINE IN! My team loves it and they all want a Surge365 car too. It has given them a tangible, accessible goal to strive for.
I was without a car for two years, not wanting to take on a payment. I now have a car with NO PAYMENT and it has made my business and my LIFE so much easier. Thank you Surge365, I will be Surging around the COUNTRY telling everyone that I meet how to make their dreams come true, 365 days a year!"