01 Aug

Travel Tip Tuesday – Travel in September!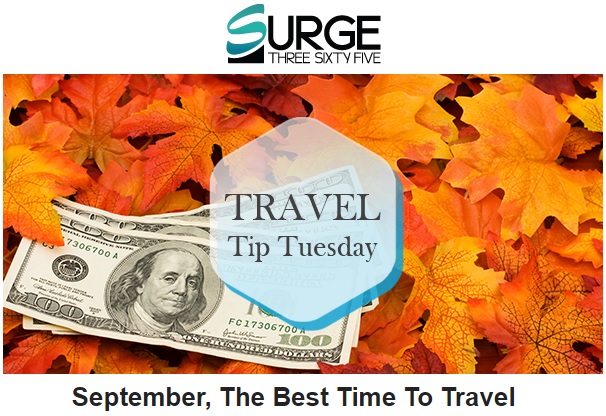 September, just after Labor Day, is one of the best times to travel in the US. With vacation season winding down and schools back in session, those who travel from mid-September through October typically enjoy off-peak rates and great weather. So if you love the sun but not the crowds, consider a late vacation or an extended weekend getaway in September. Booking two months out (right now), also gives you the best blend of price and availability. Here are just a few destinations we recommend for this time of year.
Bahamas, Cayman Islands, Bermuda, Turks & Caicos
While the off-peak season in the Bahamas runs from late spring through late fall, temperatures in September become quite nice, with trade winds that ensure a comfortable stay in accommodations without air conditioning. Prices drop significantly through hurricane season, despite that storms are fairly infrequent. Storms more frequently pound the US mainland this time of year, so take advantage of this misperception and the low prices that come with it.
Orlando, Florida
Orlando theme parks attract families, so it is most busy when kids are on vacation from school during the summer. That said, the best time to go is during the academic year. September and October are the best months to go because prices are lower, the weather is still warm, and you will avoid the masses of families with children. Another good time to visit is after spring vacation in early May. The time to avoid is Christmas week.
Las Vegas, Nevada
In the fall months, Las Vegas is preparing itself for their "calm" season, so the city lowers its prices to keep their casinos clanging and clubs booming. The weather begins to cool off as things slow down. So if you don't mind the city a little more quiet than normal, September/October is the prime time for you.
New Orleans, Louisiana
September/October is one of the best times of the year to visit New Orleans. The tourism traffic slows down, temperatures cool off, the humidity disappears, and prices drop. This phenomenon of good weather is no secret, so make sure you begin looking months in advance. The weather changes quickly so keep a close eye on the forecast during this time of year.