02 Mar

Vortex Pre-Registration Update! Your Guests Will Save!

So… the countdown clock hit zero and now your visitors will be given the opportunity to PRE-REGISTER for the Vortex and get $500 in savings to use in the meantime! AWESOME!

The $500 works the same way as the $250 EZ Travel Button, but you won't need to GIVE them a button for them to access this $500 savings. They just go to your MyVortex365 site and create an account to access it.

Have an existing Guest? If they want they can get a NEW $500 if they create a NEW account.

The new MyVortex365.com site has a brand new commercial that explains to new guests how to use the $500 credit and why they should pre-register their Vortex account now. Watch it here!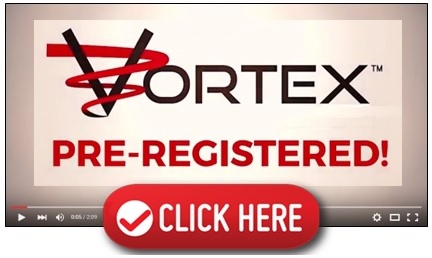 And remember, everyone who registers will also be entered into a $500 Visa gift card drawing!
Between now and the Vortex launch we are also doing the following:
• The first monthly fee will occur 30 days after the launch of the Vortex for anyone who buys now.
• If any of these people are 1 of your 3 & FREE it will count.
• The 30 day-clock for the $1,000 Bonus for 7 personal sales will begin the day we launch the Vortex even though personal sales made after Jan. 29 count.
• The 100 days to $50K clock will begin when we launch the Vortex even though Team Builder sales made after Jan 29th will count.
• As of today, March 2, you will no longer receive physical or virtual buttons with your purchase. All your new preferred customers simply go to myvortex365.com\userid to get access to their $500 credit.
• Keep in mind that Reward Credits will not be earned until after the official launch of the Vortex.