06 Jul

Surge365 Convention Call Recap – $150 Extended | Registration Guarantee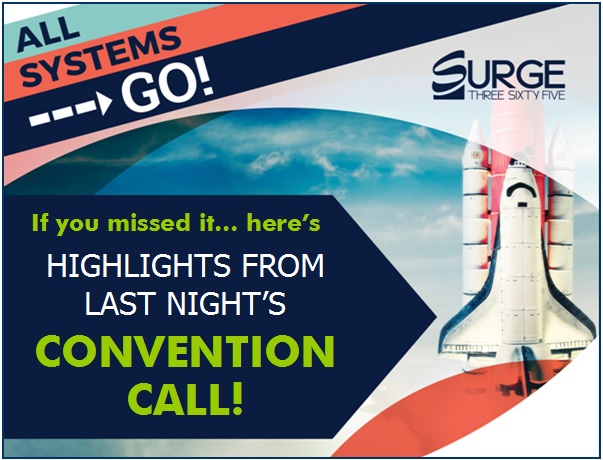 $150 Registration Extended to July 10th!
There's still time to save on the Convention registration fee! Included is S365 University, where Surge365 Directors and Field Leaders offer amazing marketing training. Add in networking, meeting friends and making new ones, the General Sessions, awards and recognition, hearing from the Founders and last but not least – the audio recording of all 18 classes taught by accomplished and successful leaders who bring real life knowledge, success, motivation and guidance to ensure your own Surge365 business success!
Nothing motivates and boosts a business like Convention! Don't miss it – register from your Back Office today and Save!
---
Registration Money Back Guarantee Announced For Attendees
We are so confident that what you will experience, see, and learn at this year's convention will be so valuable that we are putting our guarantee on it! We guarantee that if you come to the 2016 Surge365 International Convention and after attending you do not feel like you got the value for your registration, we will send you a check for your registration fee. Please see requirements below.
► Money back guarantee is for the registration cost only. Travel, hotel, food, etc expenses are not included.
► You must attend all six (6) Surge365 University Sessions
► You must attend all three (3) General Sessions
► You must request the refund during the 3rd General Session