04 Feb

Surge365 Important Updates – Feb. 4, 2016
Surge365 Updates!
$30 Catch Up Fee Waived
The $30 catch up fee is waived through March 2, 2016!
Reactivate a Surge365 Membership for only $59.95 during this time!
Earn A $1,000 Fast Start Bonus!
We are launching an additional way to earn a $1,000 bonus that we are calling the Fast Start Bonus. When you make 7 personal sales in your first 30 days you will earn a $1,000 bonus. The sales that fall into your Team Builder group that count towards your Fast Start Bonus will not count toward the regular $1,000 Team Builder Bonus.
$50K In 100 Days
Make 100 NEW ACTIVE SALES in your Team Builder Group in your first 100 days as a Surge Business Associate and you are eligible for a $50,000 Bonus! (This promotion for all existing SBAs starts on March 2 with sales made since January 29 counting.)
~~
You will receive all NORMAL bonuses in the NORMAL time frames* PLUS you will receive a $5,000 Bonus if you hold all 100 sales through the first 100 days (only NEW SALES count towards this Bonus).
~~
Note: As long as the 100 sales remain active, you will receive $5,000 for the next five months!! If at any time you fall below 100 NEW SALES and you do not replace them with NEW SALES to equal 100, you will not receive an additional $5,000 Bonus.
*Refer to Surge365 Compensation Plan document for normal bonus payment time frames.
Incentives For New SBAs
For SBAs who join Surge365 between January 29-March 2:
• Your new Membership sales will not be charged the $59.95 monthly fee until April 2.
• You will have until March 31 to earn the $1,000 Fast Start Bonus (7 personal sales).
• The $50K in 100 Days clock will start on March 2 BUT any sales made between January 29 – March 1 will count toward the 100 days!
Kick Off Your Business Success!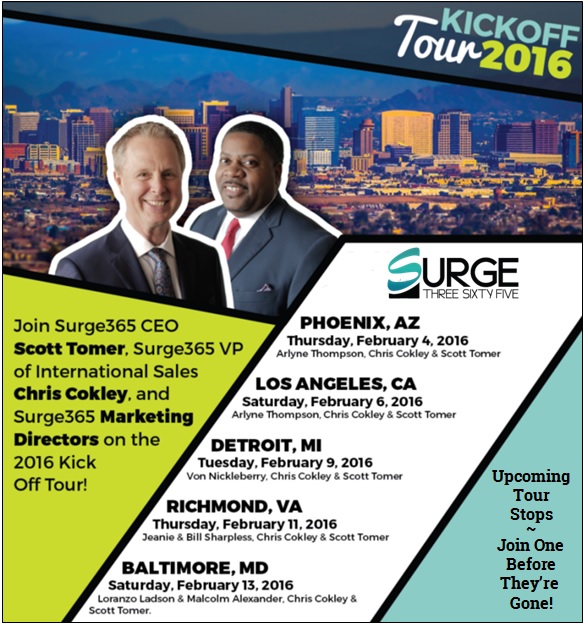 Company-Wide Call Playback Info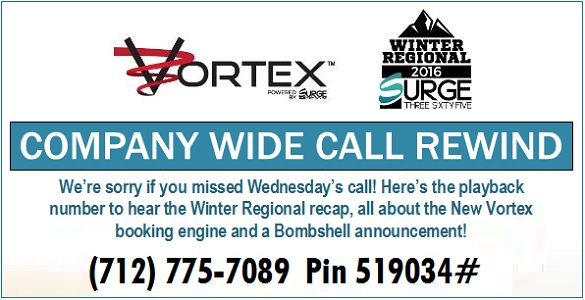 New Surge365 PowerPoint Available


The NEW Surge365 PPT presentation is now available! (Location: Surge365 Back Office > Menu > Resources > Presentations
New Surge365 Videos Are Available!


New Surge365 Videos are now available!  (Location: Surge365 Back Office > Menu > Resources > Videos)