31 May

Surge365 International Convention! 1 day until the registration price increases!

Today is the day! It's your last chance to register for the Surge365 International Convention this year in Baltimore, MD before the registration price increases at 12:00 AM Central on Monday, June 1! Register today in your Surge365 Back Office!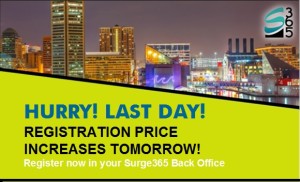 ---
IMPORTANT NOTES 
HOTEL RESERVATION INFO
When booking your hotel room at our host hotel, the beautiful Hyatt Regency Baltimore on the Inner Harbor, please search for room availability using the dates 7/31/2015 to 8/2/2015. Using any other date range will not show actual room availability.
And don't forget there is a special rate for Surge365! Register from your Back Office by clicking on the Baltimore2015 ad.
~~~
HARBOR CRUISE BALTIMORE2015 TICKETS NOW AVAILABLE! REGISTER NOW TO RESERVE YOUR SPOT!
The cost of the event is $85 per person and includes dinner, entertainment, a beautiful cruise and a chance to catch up with the Founders in a small setting. Space is extremely limited and registration for the event is on a first come, first served basis. Click on the Baltimore2015 ad in your Back Office. The cruise registration link is at the top of the page.
---
Looking for what's going on at the Surge365 International Convention? Take a look at the schedule below.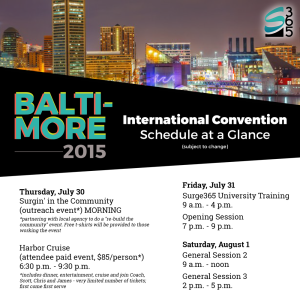 Details and registration for the Cruise and Outreach events on Thursday, July 30 to come soon! Watch right here on the Wavebreak blog, your email, and social media for more info on these can't miss events!
Please note that the schedule is subject to change.