29 Jun

Surge365 Updates & Reminders

► Home Office Holiday Schedule
► 2 Days Left to Save on Convention Registration!
► SBA Update
► Regional Builder Promotion
► 2P&C Sales Process Works!
---
Home Office Holiday Schedule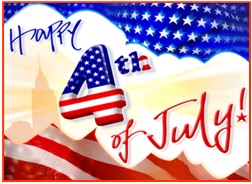 The Surge365 Home Office will close at 12 Noon CT on Friday, July 1st and will be closed on Monday, July 4, 2016 in honor of the US Independence Day holiday. Regular office hours resume Tuesday, July 5th. We wish everyone a safe and happy Fourth of July!
---
2 Days Left to Save on Convention Registration!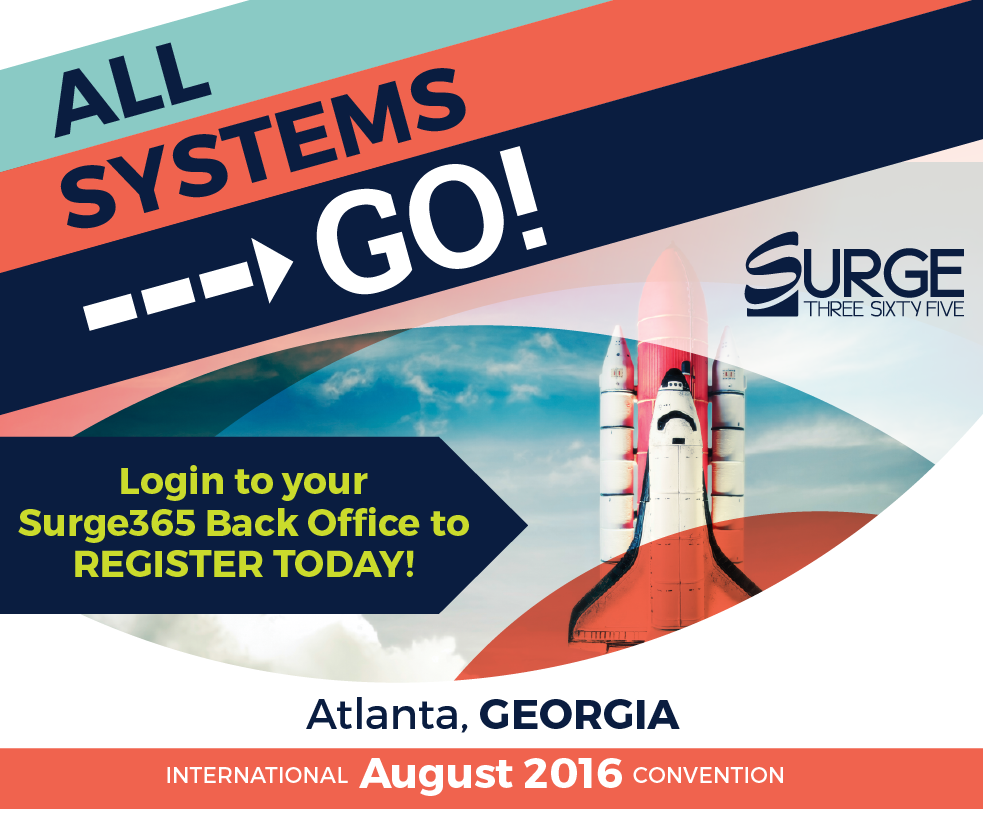 ---
Audio Recording Included in Registration
We know that you will not be able to make it to all 18 classes and we are excited to announce that we will be recording all 18 Surge365 University classes and an audio recording containing all 18 classes is included in your Convention Registration fee! The audio recording will be available after the event.

---

As we continue to strive to give you improved business management tools, beginning July 1, 2016,* the service charge for being an SBA will change from $39/year to $10/month and will include the Surge365 Mobile App. This must have business tool lets you share the latest presentation, enroll a prospect, initiate a 3-way call with your upline, check your calendar, show video presentations, log in to your Back Office, and so much more! This exceptional app has the power to transform your business on the go, wherever you go!
*Anyone billed $39/year prior to July 1, 2016 will not be billed the $10/month for the SBA service fee until their next annual billing date. For example: if you were billed the $39 SBA fee on June 15, 2016, you will not be billed the $10/month SBA fee until June 15, 2017.
Please Note: For anyone billed prior to July 1, 2016, access to the Mobile App requires an additional $10/month fee.
---
You Can Become A Regional Builder Before Convention!
Planning on becoming a Regional Builder? Want to be recognized in front of your peers and mentors? Between now and July 31, 2016, you can get to the coveted Regional Builder position in one of two ways AND be presented with your jacket at 2016 Surge365 International Convention!
1) The first way is under the new rules announced with the launch of the Vortex and that is by earning a total of five (5) $1,000 Bonuses.
2) The second way is by having a total of 30 active Travel Agents or Vortex Owners in your Team Builder Group on July 31, 2016 at 11:59 PM CT. If you achieve 30 prior to July 31, they must still remain active when the numbers are checked on August 1, 2016 at 12:00 AM CT in order to qualify for this special promotion.
Please note that starting on August 1, 2016, the only way to achieve Regional Builder is by earning five (5) $1,000 bonuses.
---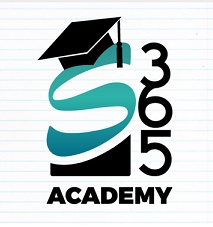 S365 Academy 100 Series
2P&C Sales Process
Prospect – Present – Close
Been wondering how to get off to a great start in your business? The 2P&C Process will do just that! Put together for you by Surge365 President, Chris Cokley, the 2P&C Sales Process will guide you through the three steps in prospecting. Go to your Back Office and look in the S365 Academy > 100 Series > Surge365 Sales Process.