01 Jul

Surge365 Updates & Reminders – 7/1 Edition

► Important Company Call on Tuesday
► Home Office Holiday Schedule
► Convention is Next Month!
► Regional Builder Promotion
---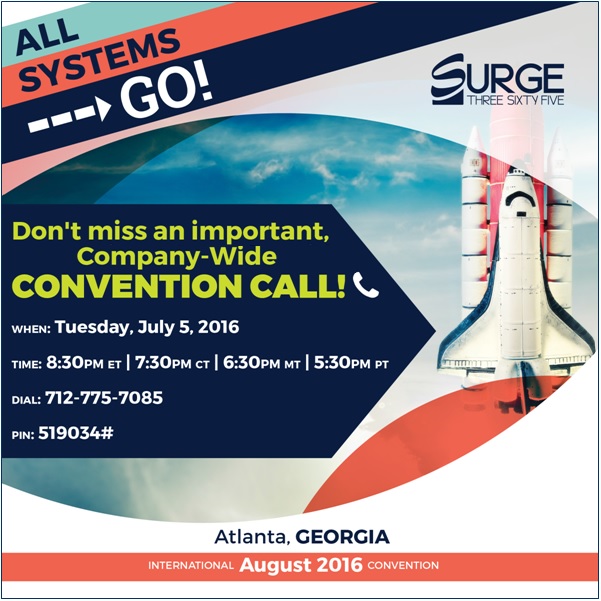 ---
Home Office Holiday Schedule
The Surge365 Home Office will close at 12 Noon CT today, Friday, July 1st and will be closed on Monday, July 4, 2016 in honor of the US Independence Day holiday. Regular office hours resume Tuesday, July 5th. We wish everyone a safe and happy Fourth of July!
---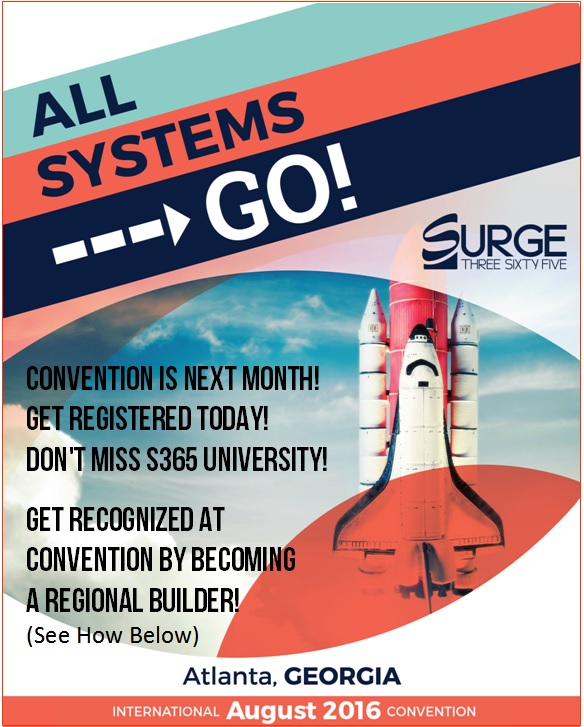 ---
You Can Become A Regional Builder Before Convention!
Planning on becoming a Regional Builder? Want to be recognized in front of your peers and mentors? Between now and July 31, 2016, you can get to the coveted Regional Builder position in one of two ways AND be presented with your jacket at 2016 Surge365 International Convention!
1) The first way is under the new rules announced with the launch of the Vortex and that is by earning a total of five (5) $1,000 Bonuses.
2) The second way is by having a total of 30 active Travel Agents or Vortex Owners in your Team Builder Group on July 31, 2016 at 11:59 PM CT. If you achieve 30 prior to July 31, they must still remain active when the numbers are checked on August 1, 2016 at 12:00 AM CT in order to qualify for this special promotion.
Please note that starting on August 1, 2016, the only way to achieve Regional Builder is by earning five (5) $1,000 bonuses.