19 Jul

The 2017 Regional Builder Experience! How Can You Attend?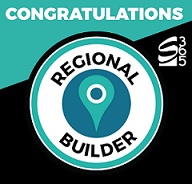 New Regional Builder Experience! How Can You Attend This Amazing Event?
Mentorship. Leadership expert John Maxwell says, "One of the greatest values of mentors is the ability to see ahead of what others cannot see and to help them navigate a course to their destination."
We are elated to announce the details for the 2017 Regional Builder Experience! The 2017 Regional Builder Experience in Naples, FL will be September 29-30, 2017. Those who qualify will be invited to participate in the 2017 Regional Builder Experience with industry legend and Chief Visionary Officer Coach Tomer, Chief Executive Officer Scott Tomer and President Chris Cokley.
These gentlemen have collectively mentored more than 100 individuals to be million dollar earners and countless more to financial freedom. And now you will have direct access to these marketing giants in an intimate setting.
You may have heard the stories from those that attended the 2016 Regional Builder Experience and how it impacted their business. Since leaving the event in November, this group earned over 60 bonuses and 3 $10,000 bonuses!
So how can you qualify to attend this life-changing, business-changing event? Here's how!
Those who achieve the Regional Builder level, by earning five (5) $1,000 bonuses, between November 1, 2016 and September 1, 2017, will be flown* to Naples, Florida for a weekend with Coach, Scott and Chris. You'll enjoy a private dinner at Coach's Country Club Friday night and Saturday… well let's just say be prepared for a mentoring session that will propel your business to new heights.
SBAs who are already Regional Builders (as of November 1, 2016) could be selected to have the opportunity to attend the Naples Experience at their own expense, based on the following criteria.** Regional Builder selection will be ranked by the number of $1,000 bonuses earned between November 3, 2016 and July 13, 2017. SBAs that are selected to attend will be contacted by the Surge365 Home Office to confirm your spot.
Who wants to take their business to the next level? Who wants to be mentored to financial freedom? Surge365… committed to mentoring you to achieve your dreams!
*Surge365 will pay for transportation (for one person) and lodging expenses (one room up to two people) for new Regional Builders qualifying for this experience. The secondary may attend but transportation to/from Naples, FL will be at their expense.
**The Regional Builder will be responsible for their own transportation and lodging expenses for this experience.
* Become a new Regional Builder between November 1, 2016 and September 1, 2017
*  Five (5) places will be reserved for Reps who reach Regional Builder between now and September 1st.
*  Existing Regional Builders, beginning with those who have earned the most bonuses since the last RBE, will receive preferred placement. (Bonus earning period is between November 3, 2016 and July 13, 2017.)
*  If you attended last year's RBE, you may not attend again.
*  Directors who have not attended may attend but will be invited based on their placement in the bonus list order.
*  Please note: Current Regional Builders will be contacted if there is availability (to attend at their own expense).